GINKGO BILOBA - GINKGO TREE - MAIDENHAIR TREE
Ginkgo biloba is the only living species in the division Ginkgophyta, family Ginkgoaceae, genus Ginkgo and is the only extant species within this group. It is found in fossils dating back 270 million years. The genus name Ginkgo comes of the Japanese gin kyo, "silver apricot". Specific biloba derived from the Latin bis, "two" and loba, "lobed", referring to the shape of the leaves. Ginkgo Tree is morphologically be considered a gymnosperm.
Although Ginkgo biloba and other species of the genus were once widespread throughout the world as Ginkgo fossils are common in the rocks of the Jurassic and Cretaceous. All the other Ginkgos disappeared; today Ginkgo biloba is the only survival member of its genus and was restricted to a small area in eastern China. This remarkable tree is known as a "living fossil", because it is the sole survivor of an ancient group of trees older than the dinosaurs.
Ginkgo Tree has long been cultivated in China; some planted trees at temples are believed to be over 1500 years old. German botanist Engelbert Kaempfer was the first European recording it from Japanese temple gardens in 1690. Because of its status in Buddhism and Confucianism, the ginkgo is also widely planted in Korea and parts of Japan
Ginkgo bilobas are dioecious, with separate sexes, some trees being female and others being male. Male trees produce small pollen cones. Female plants do not produce cones, two ovules are formed at the end of a stalk, and after pollination, one or both develop into seeds. The fertilization of Ginkgo Tree seeds occurs via motile sperm, as in cycads, ferns, mosses and algae. The seed is light yellow-brown, 1,5–2 cm long. The seeds are attractive in appearance, but contain butyric acid and smells like rancid butter when fallen. It takes 20-35 years for maidenhair trees to reach maturity and start bearing seeds.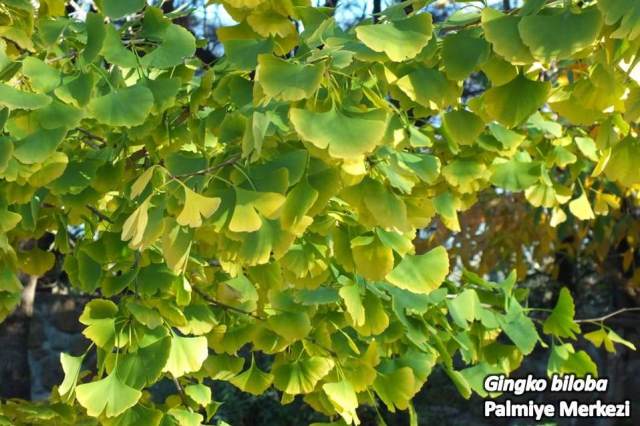 In some areas, most intentionally planted Ginkgo biloba's are male cultivars grafted onto plants propagated from seed, because the male trees will not produce the malodorous seeds. The disadvantage of male Ginkgo Tree is that they are highly allergenic due to pollens they produced.
Ginkgo biloba trees normally reached 20–30 m high; some specimens in China are over 50 m. The tree is usually deep rooted and resistant to wind and snow damage. Young trees are often tall and slender, and sparsely branched; the crown becomes broader as the tree ages. During autumn, the leaves turn a bright yellow, and then fall. A combination of resistance to disease, insect-resistant wood and the ability to form aerial roots and sprouts makes Ginkgo Tree long-lived.
The leaves are fan-shaped and composed of two or more distinct lobes. Two veins enter the leaf blade at the base and fork repeatedly in two; this is known as dichotomous venation. The Latin species name biloba refers to this fact. The old name "Maidenhair Tree" is because the leaves resemble some of the pinnae of the maidenhair fern, Adiantum capillus-veneris.
There are many cultivars of Ginkgo biloba nova days. The popular cultivar "Autumn Gold" is a clone of a male plant. Female cultivars include "Liberty Splendor", "Santa Cruz", and "Golden Girl", so named because of the striking yellow color of its leaves in the fall.
Use in Landscape
Ginkgo bilobas adapt well to the urban environment, tolerating pollution and confined soil spaces. They rarely suffer disease problems, even in urban conditions and are attacked by few insects. They also withstand -30˚C degree. For this reasons, and for their general beauty, Ginkgo Trees are excellent urban and shade trees. They are widely planted along many streets. Trees were traditionally planted in temple gardens in Japan and China, but today are popular in towns worldwide and are even farmed in plantations for their medicinal properties. It is planted as an ornamental or bonsai tree, or as a shade tree. Male trees are preferable due to the unpleasant smell of the flesh-coated seeds dropped by female trees.
Extreme examples of the Ginkgo biloba's tenacity may be seen in Hiroshima, Japan, where six trees growing within 1–2 km from the 1945 atom bomb explosion. They were among the few living things in the area to survive the blast. These trees are now continuing growing.
Medicinal Use: Ginkgo Trees has been used in Chinese traditional medicine for centuries. Today, it is also cultivated for use in western medicine and one of the best-selling herbal supplements in the United States and Europe.
Scientists have found more than 40 components in Ginkgo biloba. Only two are believed to act as medicine: flavonoids and terpenoids. Flavonoids are plant-based antioxidants. Laboratory and animal studies show that flavonoids protect the nerves, heart muscle, blood vessels, and retina from damage. Terpenoids improve blood flow by dilating blood vessels and reducing the stickiness of platelets and also act as antioxidant. In the body, harmful particles called free radicals build up as one age, and may contribute to heart disease, cancer, and Alzheimer disease. Antioxidants fight off free radicals, and stop them from damaging DNA and other cells. Ginkgo biloba has a positive effect on memory and thinking in people with Alzheimer disease, dementia and vertigo.
The nut-like gametophytes inside the seeds are eaten in Chine. Ginkgotoxin a constituent of the seeds may cause poisoning unless the seeds are thoroughly cooked.