Halleria lucida is a member of the Scrophulariacea the snapdragon and foxglove family. Halleria lucida is not only an attractive tree, it is also one of the best bird attracting trees. It is an evergreen tree or large shrub, often multi-stemmed, with a spreading crown and attractive glossy bright green foliage on arching and drooping branches.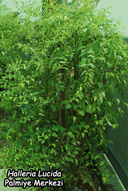 The bark is longitudinally grooved and pale grey and brown in colour. The flowers are tubular, orange to brick-red, or yellow, very rich in nectar and are produced in clusters in the axils of leaves and on short shoots on the old wood, even on the main trunk. When in full flower in autumn to summer (October-June) it can be very showy, although the flowers are some what hidden amongst the leaves and inside the canopy. Clusters of 10 mm diameter spherical green berries that turn juicy and black when ripe, follow the flowers. These are edible, but never tasty, not even when ripe.
Halleria lucida is found in Cape peninsula, almost al over the RSA and also occurs in isolated pockets in Zimbabwe. In the more exposed situations it is generally a stocky or shrubby tree that reaches a height of 2-5 m but in well watered, protected situations it can reach up to 20 m.
The genus Halleria is named after Albrecht von Haller, professor of botany at Gottingen. It is a small genus of ten species that occur in Yemen, Madagascar and Africa from Ethiopia to the Cape peninsula. The specific name lucida is Latin for shining/shiny and refers to the foliage.. The name Tree Fuchsia was acquired because of its fuchsia-like flowers.
The Zulu nation has a strong belief in traditional medicine and they use Halleria lucida for skin and ear complaints. Dry leaves are soaked in water and squeezed into the ear to relieve earache. This tree is also considered to be a charm against evil. The twigs are burnt when offering sacrifices to the ancestral spirits.
Halleria lucida is tough and easy to grow, and thrives under many different conditions. It is fast growing, and performs best in well-drained nutrient-rich loam with water provided all year round although it tolerates periods of drought. It is relatively hardy to frost (minimum -7°C/ 20°F) but requires protection when young.
Tree Fuchsia makes a shapely specimen tree for the smaller garden, and looks at home in the larger landscape, where it can also be planted in groups. It can be used to provide shade, or can itself be planted in shade as an under-storey tree. It is suitable for use as an informal hedge, and can be planted in a large container. It is also one of the best bird attracting trees.
Halleria lucida is easily propagated by seed, and cuttings. Young plants may flower for the first time in their second year. Seed is best sown in spring to mid-summer or in autumn, in a standard well-drained seedling mix and covered lightly with coarse sand or milled bark. The trays can be placed over bottom heat of 25°C although this is not essential for germination to occur.