Kalanchoe is a genus that contain about 130 species of succulents and has a very wide distribution area: Saudi Arabia, Yemen, Tropical Africa to South Africa, Madagascar, India, S. China, Phillipines, Malaysia, Brazil and Australia. Kalanchoe is belong to Crassulaceae family. The family name Crassulaceae means thick fleshy leaves which is characteristic of the plants in the family.
A number of species can take temperature close to freezing for short times, but none will really tolerate any frost. The species that have pubescent leaves can generally tolerate intense heat without trouble particularly if kept in light shade. The species with smooth leaves are a little less tolerant, but fare generally better than most other crassulaceae in such hot conditions.
Kalanchoe thyrsiflora - Paddle Plant, Flapjack
The species name thyrsiflora refers to the inflorescence, which is a thryse or many-flowered kind of inflorescence. Contrarily to other members of the family that have most flower parts in multiple of 5, Kalanchoe flowers have 4 connected petals forming a tube, 4 sepals, 4 carpels, and 8 stamens.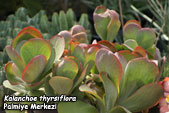 Flapjack forms a basal rosette of large, rounded, fleshy, stalkless leaves, which are grayish-green with red margins, covered with a white powdery bloom. Plants reach about 60cm, erect, upward facing, tightly arranged leaves are without petioles.
Kalanchoe thyrsiflora is a monocarpic plant producing a stalk about 1m tall, dying back after flowering. The inflorescence is terminal and erect with densely clustered panicles of greenish waxy flowers with yellow recurved lobes. Small tubular flowers approximately 15mm long. Flowering from autumn to spring. On the inflorescence the lower leaves are rounded and become smaller as they ascend along the flowering stem. The flowering may persist for a long time on the plant until the whole plant eventually dies. When given enough sunlight, the large and dramatic sage-green leaves develop a bright red or pink band that highlights the edges of the smooth, fleshy paddles.
Flapjack being a succulent perennial, it does not require much attention in sunny dry gardens. Plants take about 3-4 years to mature, but flowers may appear from the second year and remain for another year before seeds are dispersed.
In its natural habitat, plants are sometimes exposed to harsh temperatures and have adapted to survive over many years. Besides succulence, the plants always erectly point their leaves upward toward the sun in order to minimise the surface area that is exposed to the sun. This helps the plant to conserve moisture even more. The white floury coating on the leaves and inflorescence helps to reflect the sun away thus keeping the plant cool. Ants, bees and other flying insects, which visit the flower at midday, are responsible for pollinating Kalenchoe. The fertilised flowers may persist on the plants for a long time and the very small seeds are effectively dispersed by the wind.
It is possible to grow Kalanchoe thyrsiflora vegetatively as well as sexually. For quick results leaf cuttings can be made from mature plants. When making cuttings it is important to ensure that a small piece of stem is attached to the leaf. Make cuttings during the warmer months. Place in coarse river sand in an area with air movement and shade of about 40%. Alternatively the seeds which are very fine can be sown on a sandy medium then lightly covered.
Horticulturally Flapjacks are very popular in rock gardens, on rocky embankments, and as perennial container plants. They make beautiful displays when planted in mass and their red leaf margins are particularly attractive. Remember that these plants are from rocky areas and prefer a similar garden habitat with plenty of direct sunlight in order to thrive. Flapjack makes for a vivid potted plant or summer succulent annual in a landscape.
Kalanchoe thyrsiflora is tolerant of moist but well-drained soils; and, like its succulent relatives, is very drought resistant once established. It grows best in full sun to partial shade. In shade, leaves will be greener.