Cycads are a group of plants that can trace their origins back 200-300 hundreds of years. Although it would be incorrect to say that they are unchanged from those times, they do still retain characteristics and appereance of old ancestors as seen in fossiles.
CYCAS REVOLUTA (SAGO PALM, KING SAGO, JAPANESE SAGO PALM),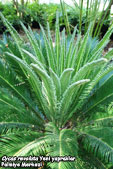 Cycas revoluta though often known by the common name of Sago Palm, it is not a true palm, but a member of the Cycadaceae family. The Latin specific epithet revoluta means "curled back", in reference to the leaves. Cycas revoluta, is an attractive plant native to southern Japanese islands including Kyushu, and Ryukyu. It is one of several species used for the production of sago, as well as an ornamental plant. Tolerates some salt in soil.
Sago Palm is a gymnosperm plant, such as cycads, ginkgo, yews and conifers. One of most interesting finding, both Ginkgo and Cycas revoluta have moving sperms like in animals and also they bear hem in their juices which is a protein found in erythrocytes in animals.
Sago Palm is one of the most widely cultivated cycads, grown outdoors in warm temperate and subtropical regions, or under glass in colder areas. It grows best in sandy, well-drained soil, preferably with some organic matter. It needs good drainage otherwise it may rot. It is drought tolerant and grows well in full sun or outdoor shade, but needs a lot of light when grown indoors.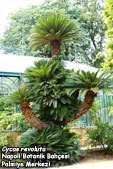 Cycas revoluta is very symmetrical plant supports a crown of shiny, dark green leaves on a thick shaggy trunk that is typically about 20 cm in diameter, sometimes wider. The trunk is very low to subterranean in young plants, but lengthens above ground with age. Trunk can grow up to 600–700 m in cultivation in 100s of years time. Sometimes trunks can branch multiple times, thus producing multiple heads of leaves. The leaves are deep semiglossy green and about 50–100 cm long when the plants are of a reproductive age. The crowded, stiff, narrow leaflets are 8–18 cm long and have strongly recurved or revolute edges. The basal leaflets become more like spines. Plants produce suckers at the base and offsets along the trunk, sometimes prolifically, and these often give the plant the appearance of a clump.
New leaves are very soft and emerge from the crown of the plant. In young specimens they are often only produced in small numbers but once older and more settled a new 'flush' of 30-60 leaves comes at a time. These unfurl quite rapidly, until they have fully unfurled and 'hardened off' they remain extremely delicate and easily damaged.
Sago Palms roots are called coralloid with an Anabaena (is a genus of filamentous cyanobacteria that exists as plankton). It is known for its nitrogen fixing abilities, and they form symbiotic relationships with certain plants like cycads allowing nitrogen fixation.
Cycas revoluta, is dioecious as all other cycads, males bear pollen cones and the females bear groups of megasporophylls. Pollination can be done naturally by insects or artificially. Frost damage can occur at temperatures below −10 °C It does, however, require hot summers with mean high temperatures of 25 to 35 °C for successful growth.
Propagation By dividing corms, bulbs or offsets and from seed. Mealy bug and scale may trouble this plant. Control can be time consuming, but systemic insecticides work well. Aulacaspis yasumatsui is a scale insect and a pest towards Sago Palm, able to destroy the plant.
USE IN LANDSCAPE: Sago Palm is one of the most popular plants in cultivation. It is seen in almost all botanical gardens, in both temperate and tropical locations. In many areas of the world, it is heavily promoted commercially as a landscape plant. It can be used in rows, in groups or solitary, also it fits for pot culture.
The
pith
contains edible
starch
, and is used for making
sago
. Before use, the starch must be carefully washed to leach out
toxins
contained in the pith.
Cycas revoluta
is extremely poisonous to animals and humans if ingested. All parts of the plant are toxic; however, the seeds contain the highest level of the toxin
cycasin
. Cycasin causes gastrointestinal irritation, clinical symptoms of ingestion will develop within 12 hours, and may include
vomiting
,
diarrhea
, weakness, seizures. If it had been taken in high dose, leads to liver failure
Hepatotoxicity
characterized by icterus, cirrhosis, and ascites. Other toxins include
Beta-methylamino L-alanine
, a
neurotoxic
amino acid
, and an unidentified toxin which has been observed to cause hindlimb paralysis in cattle.