SANSEVİERİA – SANSEVERYA - PAŞA KILICI
Sansevieria genus is belong to ''Asparagaceae'' family, covers approximately 70 species, indigenous to Africa, Arabia, and India. Several species and their cultivars are grown commercially for use as interior foliage plants. The genus name Sansevieria originates from that of Raimond de Sangro, the prince of Sanseviero. He was a faithful patron of horticulture in Italy during the 18th century. The specific ephitet trifasciata means three bundles.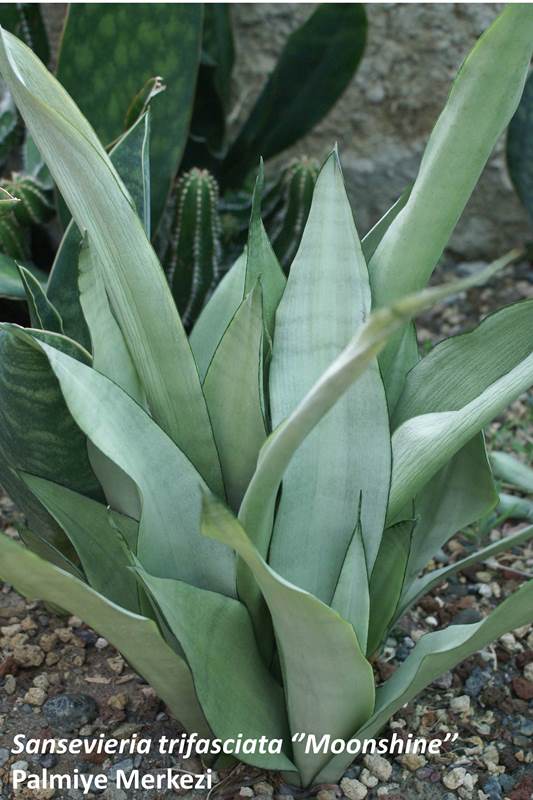 Sansevierias are succulent plants, they have strong, plastic-like, succulent leaves that erupt right out of the ground from the roots or rhizomes. They have no stems. Flowers in summer or autumn. Flowers are whitish to pale yellow-green and some are nicely scented. Flowered plant will no longer produce new leaves but will continue to grow by producing plantlets via its rhizomes or stolons. Many species, are naturally variegated being banded, striped or mottled to varying degrees. Some have thin, flat, upright leaves while others have nearly cylindrical, arching or straight, spear-like leaves that end in sharp points. The leaves of Sansevieria are typically arranged in a rosette around the growing point, although some species are distichous. There is great variation in foliage form within the genus. All species can be divided into one of two basic categories based on their leaves: hard leaved and soft leaved species. Typically, hard leaved Sansevieria originate from arid climates, while the soft leaved species originate from tropical and subtropical regions.
There are around 130-140 species and cultivars of Sansevierias. Many of the cultivars are variegated forms and there are over 60 cultivars of Sansevieria trifasciata alone. Cultivars of Sansevierias divided three groups: normal full size, medium size with wide leaves and small (dwarf) size.
Sansevierias are succulent plants so need a well-drained compost and moderate watering. In the summer months they can be watered frequently and appreciate this, as long as the soil does not remain water-logged, but in the cooler months they should left dry. A minimum winter temperature of 10°C is recommended. They withstand short periods of light freeze as long as the plants are dry.
Sansevierias are difficult to keep in captivity as they always try to escape. Most spread through underground rhizomes. They can be propagated by cuttings or by dividing the rhizome. Cuttings have the disadvantage that the variegation will be lost. Plants can also be produced from seed although this is a slow process.
SANSEVIERIA TRIFASCIATA, MOTHER-IN-LAW'S TONGUE has up to 6 leaves per rosette. Mature leaves are dark green with light gray-green cross-banding, 70–90 cm long and 5–6 cm wide. Ultimate height is 100-150 cm. Numerous cultivars have been selected, many of them for variegated foliage with yellow or silvery-white stripes on the leaf margins. Popular cultivars include 'Compacta', 'Goldiana', 'Hahnii', 'Laurentii', 'Silbersee', and 'Silver Hahnii'. A variegated cultivar of Sansevieria trifasciata 'Laurentii', the most common species in cultivation.
SANSEVİERİA CYLİNDRİCA – YUVARLAK YAPRAKLI PAŞA KILICI vatanı Angoladır. 2-3 cm çapındaki yuvarlak yaprakları, 80-130 cm uzunluğa erişebilir. Yeşil renkli yapraklarının üzeri yuvarlak koyu yeşil renkli bandlar ile kaplıdır.
SANSEVİERİA GRANDİS - GENİŞ YAPRAKLI PAŞA KILICI Vatanı Somali'dir. Koyu yeşil renkli yaprakları 30 cm genişlik ve 50 cm yüksekliğe ulaşabilirler. Hızlı büyüyen bir türdür.
Peyzajda Kullanımı: Sansevieria'lar şiddetli don olmayan yörelerde, dış mekânda kullanılır. Kuraklığa ve ihmale dayanıklı olduklarından çok kullanılan bitkilerdir. Standart boylar, ilgi odağı olarak grup halinde, küçük kültürler, sukkulent bahçe düzenlemelerinde yer örtücü olarak kullanılabilir. Özellikle, saksı ve kaplarda dikilerek bahçe süslemesinde kullanılmaktadır.
NASA tarafından yapılan bir araştırmada, Sanseveria'ların azot oksitleri ve formaldehit gibi toksinleri absorbe ederek, oda havasının kalitesini en iyi düzenleyen bitkilerden biri olduğu anlaşılmıştır. Pothas (Epipremnum aureum), Drasena (Dracaena fragrans) gibi bitkiler de aynı şekilde havayı temizlemektedir. Sansevieria crassulacean asit metobolizması yoluyla, gece karbondioksit alarak havaya oksijen vermektedir. Bu özellik nedeni ile yatak odalarına konulmalarında bir engel yoktur, ancak yaprakları potansiyel olarak zehirli olabileceğinden, çocuk yatak odalarına konulmalıdırlar.