Ricinus belong to Euphorbiaceae family. Ricinus communis is the only member of the species. Castor Bean plants are native to northeastern Africa and west Asia. Bean seeds have been found in Egyptian tombs dating back thousands of years.
Ricinus communis is very fast growing, mound forming, suckering, monoecious, evergreen shrub, widely naturalized in wasteland, at roadsides. Castor Oil Plant grows up to 10 m tall. In its first year, it grows to 1-5m tall and perishes during autumn frosts. It is grown throughout the world as an annual plant or evergreen shrub or tree in tropical climates.The root system consists of a well-developed taproot that reaches depth of 3–4 m. Castor Oil Plant erect, branching shrub, with alternate, very broadly ovate deeply 5 to 12 lobed, toothed, glossy, midgreen, reddish purple, or bronze-red leaves 15-40cm long.
Inflorescences are racemes 60–80 cm long, located on the ends of branches. Male flowers occupy lower part of the raceme; female flowers occupy the upper part; all are apetalous. Fruits are spherical or oblong pods, 2–3 cm across, usually with prickles, three-celled, with 1 seed in each cell. Seeds are 8–20 mm across, oval, gray to dark red with gray or other color mosaic.
Ricinus communis is a thermophilic plant, suffers from frosts. Shoots perish at temperatures below -1°C; adult plants die at temperatures below -3°C. Temperatures should not fall below 20–25°C to ensure normal plant development. It withstands some drought. Vegetative period (from shoot emergence to maturing of first raceme) lasts 100–150 days.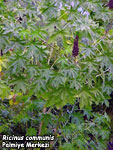 Castor Oil Plant has several widely known uses, grown as a rodent repellent, or grown for its derivatives, the toxin known as Ricin and the dreaded castor oil. The beans are most definitely toxic to humans and animals. Care should be taken when handling them, don't allow young children or pets in their vicinity without close supervision. The principal toxin is an albumin, called ricin. The seeds contain 2,8–3% toxic substances, 3–20 seed killing a man, 4 a rabbit, 5 a sheep, 6 an ox or a horse, 7 a pig, 11 a dog, but 80 for cocks and ducks. However, the effectiveness of this plant at poisoning or driving out moles, gophers or other tunneling animals is probably more hype than fact.
However, it produces immunizing activity, producing in small doses an antitoxin analagous to that produced against bacteria. Castor beans are pressed to extract castor oil which is used for medicinal purposes. Ricin does not partition into the oil because it is water-soluble, therefore, castor oil does not contain ricin.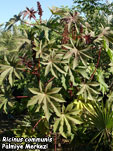 Castorbean is cultivated for the seeds which yield a fast-drying, non-yellowing oil, used mainly in industry and medicines. Oil used in coating fabrics and other protective coverings, in the manufacture of high-grade lubricants, transparent typewriter and printing inks, in textile dyeing. Dehydrated oil is an excellent drying agent which compares favorably with tung oil and is used in paints and varnishes. Hydrogenated oil is utilized in the manufacture of waxes, polishes, carbon paper, candles and crayons. 'Blown Oil' is used for grinding lacquer paste colors, and when hydrogenated and sulfonated used for preparation of ointments. Castor Oil Pomace, the residue after crushing, is used as a high-nitrogen fertilizer. Although it is highly toxic due to the ricin, a method of detoxicating the meal has now been found, so that it can safely be fed to livestock.
Many varieties have been cultivated and 'Carmencita' is one of the most attractive with bold foliage and bright red flowers.