Most of the products of The Palm Center are of tropical and subtropical nature and therefore can be cultivated outdoors only under certain conditions and areas. Nevertheless, most of these products are suitable for indoors cultivation.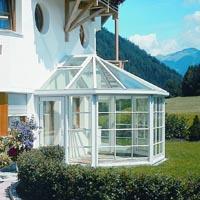 With "indoors" it is meant inside of buildings. Often limited sunlight through the windows is insufficient for the cultivation of many plant species. For the cultivation of sizeable and attractive plants at indoors, designs have been made with high ceilings and with top ceiling windows. Mankind has explored ways to feel close to nature after having been separated from nature as a result of industrial revolution. Resultantly "Winter Gardens" and "Conservatories" have been created. These are indoor areas with sufficient lighting and heating, suitable for the cultivation of various plants. Generally "Winter Gardens" are annexed to living rooms, e.g. an annexed balcony, or a part of the living room units or even a detached Green House type.
For designing of Winter Gardens, heating, insulation, air circulation need to be considered in addition to sunlight reception. In the so-designed indoor garden environment, to maintain the desired microclimate a separation e.g. a door, from the other spaces of the house is required. A common mistake made in our country in the maintenance of green house type winter gardens, is the provision of insufficient air circulation. This is why more plants have difficulty and often die during summer months as a result of too high temperatures in such areas as compared to outdoors. It is also obvious that at higher temperatures many soil and plant pests are more active.
It is possible to keep any type of plant in a suitable winter garden. However, care should be taken in plant type selection. Fast growing trees, plants growing easily outdoors, or those which can get stressed indoors, should be avoided. Poisonous plants and those having thorns are also not suitable for indoors, particularly in homes with young children and pets. Often personal preferences govern the choice of plants. However, the requirements of the plants and their harmony should also be considered. It is obvious that desert plants will not be suitable in a high temperature humid environment.