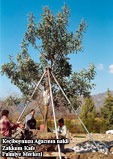 Site preparation, for Oleander Cafe commenced on 4 th July 2002, and the first foundation filling was made with 24 truck full of material on the 17th of July 2002. Datca Date Palms on the road side to Oleander Cafe were planted on the 5th Of September 2002. The "Hollow Stone" was placed on the 13th of October 2002. Today there is a big oleander tree, was grown out from the hole of this stone.
Construction of the walls surrounding Oleander cafe and the circular seating area was commenced on January 2003. The Carop Tree "Ceratonia siliqua" situated at the center of the seating area, was planted there after its removal from elsewhere in our garden. Albizia Trees "Albizia julibrissin" which used for creating shade area, around the seating part were planted on 13 April 2003.
The stone craft work for the walls and the kiosk lasted from 15 May to end June of 2004. Works restarted in January 2005 and completed in May 2005, including the kiosk and toilets.
In this garden you can see seedlings of the century old Fraxinus tree at a rest place. At the center of the circular seating area you can admire one of the most beautiful Mediterrenean trees; the Carop tree.
There are a service kiosk and toilets in addition to the seating area in Oleander Cafe area. Cold and hot drinks as well as unusual jams made from Chaenomeles japonica, Cactus fig and male fig and souveniers, seeds and small plants are on sale at the kiosk.
Although it was intended to use only Mediterrenean plants in the initial design of the Oleander Cafe area, exotic plants have been added later.