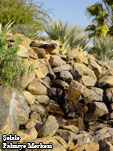 Palmetum "Living Palm Museum" is the first section of the Botanical Garden. Palm Centre during its beginnings has reserved an area of 5500 m (59.201 ft²) for a first-in-Turkey "Palmetum"; a museum for living palms. Organisation of this area has started in 1996 and the first plantations were made in 1997. The Palmetum is surrounded by, Washingtonia palms in the north, Datca Date Palms in the west, Queen Palms and trees of African origin in the south and by Thuyas in the east. Here, a 300 m (3.300 ft²) decorative pond contains Japanese "Koi" fish, and a Senegal Date Palm in the small island mid pond. Currently 41 species of palms are cultivated in the Palmetum. In addition to palms, various species of perennial and annual, shrubs and tree type plants are situated here.
"Traveller Palm": 18 meter high slender Washingtonia Palm, a good landmark of the location of the Palm Centre. It is called the "Traveller Palm" because Palm Centre is its third home.
Koi pond: There are Japanese koi fish in the pond situated in the middle of the Palmetum. A small water fall from the Cactus Hill runs into the Koi pond. There is a Senegal Date Palm (Phoenix reclinata) on the tiny island in this pond.
Under Forest (Shade) Plants: Area containing palms and other plants which in their naturel habitat, live in shade.
Aşure Garden: This area has a mixture of exotic and natural plants from different climatic zones (Aşure is a traditional Turkish sweet, contains many type of dried fruits and nuts).
Cycas Garden: Area containing many Japanese Cycas revalutas.