Natural stands of Phoenix theophrastii were discovered in Turkiye in 1982, at the south-west of the country in the Datca Peninsula not far from the famous tourist town of Marmaris by Boydak and Yaka. Three years later a second locality was recorded at Kumluca-Karaoz in Finike about 250 km away from the Datca side, by Prof. Boydak.
A new stands of Phoenix theophrastii found by Prof Boydak in 1994 at the village of the Gölköy, north of Bodrum not far from Datça as the crow flies. An exellent article about the locality of this strain can be found in Princeps (now Palms) 39(3), 1995, pp 117-122.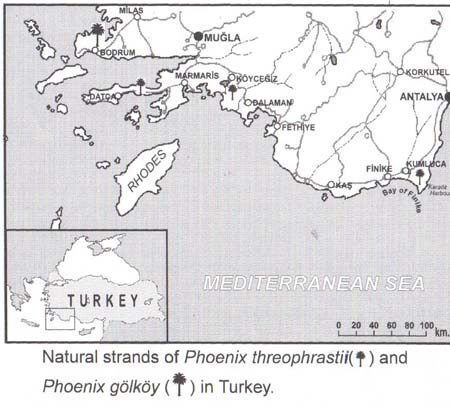 Our research studies for Datca Date Palm (Ph. Theophrastii) and Gölköy Date Palm (we belive that shown quite differens from the Datca or Karaoz strains) are continue.