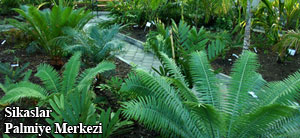 Cycads , which have been grouped with the Palms in the past, are now known to be a different group. They are called as "living fossil plants" as they have not changed during the last 200-300 million years.

In Turkey only Japanese cycads are known under this name. In our Center there are 12 species of Cycads, 6 of which are sold. Cycas grow slowly and live long. It has male and female plants, and is one of two plants, which have moving sperms as in the animals.

OUR COLLECTION GREENS ARE SOLD
Cycas circinalis

Cycas guizhouensis

Cycas media

Cycas pectinata

Cycas petrea

Cycas revoluta

Cycas rumphii

Cycas spp.'Silver'

Cycas taitungensis

Cycas thouarsii

Cycas spp.

Dioon edule var. angustifolium

Dioon spinulosum

Encephalartos hildebrandtii

Macrozamia communis

Macrozamia riedlei

Zamia furfuracea

Zamila pumila
CYCAS REVOLUTA (SAGO PLANT - JAPANESE CYCAS)
| | |
| --- | --- |
| | Its home is Ryukyu island of Japan. It is resistant to slight to moderate frost. Whether it is male or female can only be understood after producing cones. Both male and female after reaching certain maturity, provide seedlings from the soil or stem. |
CARE OF CYCADS AT POT AT TEMPERATE OR COLD CLIMATE

Water when dry, do not overwater

Keep in a place with ample light, even with direct sunlight during certain period of the day

From spring to fall, every 4-6 weeks give nitrogen rich, mix fertiliser (with trace elements) or long active tablets

Your indoor cycas usually produces new leaves once per annum, but it is possible to get them produce more than one flushes per annum by good feeding. Make sure that these new leaves do no touch or get restricted by objects, otherwise they will be bent and remain bent

Cycas can live hundreds of years, under non-favourable conditions they may not produce new leaves for 1-2 years.
| | | | |
| --- | --- | --- | --- |
| | | | |
Back to Top